can we do for you?
Support you with professional HR Guidance
Assist with Compliance (payroll taxes, HR, OSHA)
Provide access to better, cost-effective employee benefits including workers' comp and EPLI
Supply attorney-approved employee handbook, policies, procedures, and practices
Deliver on-time and accurate payroll
Reduce your State Unemployment Taxes (SUTA)
Process Workers' Comp and Unemployment claims efficiently
Allow access to 24/7 Safety Coordinator
Access to online 401K plan
Full staff of experts headquartered in El Paso, Texas
Peo services
What is a Professional Employer Organization (PEO)?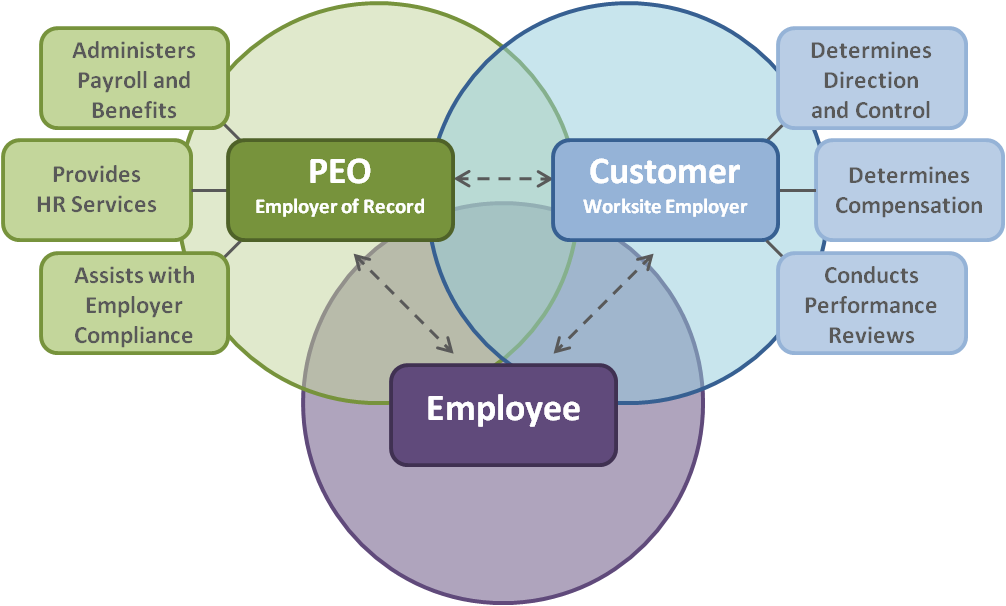 A PEO provides integrated services to effectively manage critical human resources responsibilities and employer risks for clients. A PEO delivers these services by establishing and maintaining an employer relationship with the employees at the client's worksite and by contractually assuming certain employer rights, responsibilities, and risk. Essentially, our job will free you up from human resources responsibilities so you can focus on the bottom line.
By outsourcing your Human Resources Department, you remove the tedious, time-consuming HR demands of your business while at the same time reducing your risk.
What can a PEO do for you?
Our PEO Will Provide Excellent Benefits to Your Workforce
Employee Benefits - With us by your side, your employees will have access to a variety of benefits according to what you want to provide. This can include anything from healthcare, 401k, life insurance, dental and more. We can customize the benefits to your personnel according to the size and needs of your business. Providing employee benefits is a great way to increase personnel retention.
Human Resources - Outsourcing your HR department to our PEO is a great way to manage your liabilities. We handle everything including employment verification, new hire onboarding, creating employee protocols, leave of absence requests, vacation time and pay, liability management training, and more.
Manage and Reduce Risk - Having employees is essential but it also comes with risks. Complying with tax laws, I-9 requirements, E-Verify, Equal Opportunity education, and claims resolution are all issues we can help you with.
Compliance Assistance - Our PEO will help you monitor and remain in compliance with state and federal laws associated with employment and safety. With the way employment laws are always changing, we will provide the knowledge to keep you on track.
Payroll Processing - Payroll can be a lengthy and tedious process. It can take your attention from other aspects of your business that should be a priority. With our professional help, payroll is effortlessly taken care of while remaining in compliance with laws associated with pay.
RMP offers HR Consulting Services as well. Contact us for more information.
---

can we do for you?
Support you with professional HR Guidance
Assist with Compliance (payroll taxes, HR, OSHA)
Provide access to better, cost-effective employee benefits including workers' comp and EPLI
Supply attorney-approved employee handbook, policies, procedures, and practices
Deliver on-time and accurate payroll
Reduce your State Unemployment Taxes (SUTA)
Process Workers' Comp and Unemployment claims efficiently
Allow access to 24/7 Safety Coordinator
Access to online 401K plan
Full staff of experts headquartered in El Paso, Texas